Mortgage Market Update-June 9, 2008
Sunday, June 15, 2008
Jason Daniels is pleased to provide current information regarding the Colorado Springs Real Estate market. The following information is provided by Coleen Leri with First Community Mortgage.
"THERE IS NO BARRIER TOO HIGH, NO VALLEY TOO DEEP... NO DREAM TOO EXTREME, NO CHALLENGE TOO GREAT" ~ Charles Swindoll And that motivating phrase was a great motto for last week, as both Bonds and home loan rates ended up being greatly challenged as they dreamed of breaking through technical barriers to attempt some improvement. Lots of intra-week action ensued - but when the dust settled, Bonds and home loan rates rallied in the face of challenges and ended the week very close to where they began.
Bond prices and home loan rates started the week to the upside, as Wachovia announced they were removing their CEO and Stocks faced some selling pressure on the news, moving money into Bonds and helping rates improve. But the rally was very short lived, as Wednesday's "unofficial" Employment Report by giant payroll processor ADP indicated 40,000 new private sector jobs were added in May...and while this good economic news gave Stocks a boost, it pulled money right back out of Bonds and caused home loan rates to worsen. Thursday's positive economic news that unemployment claims for the week were lower than expected caused Bonds and home loan rates to worsen even further, as traders began to speculate on what the "official" Jobs Report by the Department of Labor would contain.
And on Friday morning, along came the big enchilada, the monthly Jobs Report. The Unemployment Rate increased to 5.50%, up from 5% last month - the largest jump since February of 1986. This was much worse than the market expected. And remembering that bad economic news tends to be bad news for the Stock market, but good news in turn for the Bond market, the news was positive indeed for Bonds and home loan rates - helping them to end the week relatively unchanged.
STOCKS AND BONDS AREN'T THE ONLY THINGS ON THE MOVE THIS TIME OF YEAR. NOW THAT WE'RE INTO THE SUMMER SELLING SEASON, YOU OR SOMEONE YOU KNOW MAY BE ABOUT TO BUST A MOVE. CHANGE OF RESIDENCE IS EXCITING, BUT IT CAN ALSO BE A LOT OF WORK. READ THIS WEEK'S MORTGAGE MARKET VIEW FOR SOME TIPS ON HOW TO TAKE THE STRESS OUT OF MOVING!
Forecast for the Week


So we know that employment numbers were the big movers and shakers for the financial markets and home loan rates last week. What's in store for the week ahead, and what could drive more market action?
Keep your eye out for the Retail Sales Report, which will be released on Thursday. The Retail Sales report is a measure of the total receipts of retail stores, and changes in these numbers are closely followed as a timely indicator of broad consumer spending patterns. Recent numbers haven't been too bad - consumers seem to still keep spending away. But, will this week's report show that inflation and high oil prices are finally taking their toll on consumer pocketbooks? A strong Retail Sales Report would be good for the Stock market - which stands to reason, as it would indicate continued consumer confidence and dollars being poured into the economy. But a strong Retail Sales Report would be bad news for Bonds and home loan rates, which benefit from weak economic news.
Sure to be a market mover is Friday's Consumer Price Index report, which gives a read on inflation at the consumer level - that is, how much more expensive are goods and services this month over last month? CPI is a widely watched inflation indicator, and will definitely make headlines. Inflation tends to be bad news for both Stocks and Bonds, so if the report indicates inflation is heating up, this could cause Bond pricing and home loan rates to worsen in response.
Remember when Bond prices move higher, home loan rates move lower...and vice versa. And as you can see in the chart below, Bonds were challenged to improve and break above a strong technical barrier at the 200-day Moving Average....only to end the week being forced below it once again. This is a very important "line in the sand," so I'll be watching closely this coming week - as always - to see if the news of the week will help Bonds break above this important barrier, or remain below it.
Chart: Fannie Mae 5.5% Mortgage Bond (Friday Jun 06, 2008)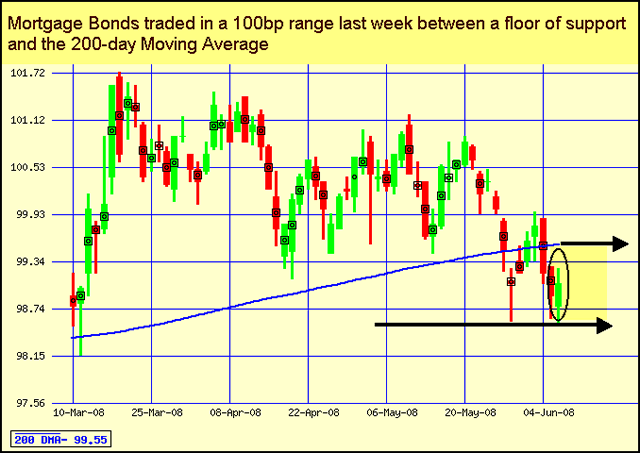 The Mortgage Market View...


Moving can be very exciting...but it can also be a bit of a pain as well. Besides packing and unpacking, there is a long list of details to be handled. Things like choosing a mover, connecting utilities, getting Internet and cable service, or subscribing to newspapers or magazines in a new area can be quite a chore. And if you forget to connect one of the utilities you could be stuck in your new home for several days without that much needed service. To ease the stress of moving and schedule new connections for all of the utilities in one convenient location, simply logon to www.whitefence.com.
You can quickly compare prices for movers, phone, electricity, television, or high-speed Internet. Just select the service you wish to compare--for example, phone, cable, and electric. Or, enter your address on the home page, hit search, and within seconds a list of services and prices available in that area will appear. Next, click on the service of your choice to view details and pricing or comparison shop by choosing three providers. Once you determine the provider, select the service plan, complete the requested information, enter the connection date, and within minutes a confirmation will be sent to you.
If you want to change your current provider, simply hit the icon for phone, cable, or internet, select "switch provider", complete the requested information and a list of providers in the local area will appear. Choose the new provider and the service will be changed.
Additionally, on the site you can complete a change of address form, subscribe to local newspapers, and order magazine subscriptions. Moving to a new home should be enjoyable and exciting. Using this tool can help remove a bit of the stress of moving and will also help save valuable time.
The Week's Economic Indicator Calendar

Remember, as a general rule, weaker than expected economic data is good for rates, while positive data causes rates to rise.
Economic Calendar for the Week of June 09 – June 13
Date

ET

Economic Report

For

Estimate

Actual

Prior

Impact

Tue. June 10

08:30

Balance of Trade

Apr

-$59.5B

-$58.2B

Moderate

Wed. June 11

10:30

Crude Inventories

6/07

NA

-4802K

Moderate

Wed. June 11

02:00

Beige Book

Moderate

Thu. June 12

08:30

Jobless Claims

(Initial)

6/07

371K

357K

Moderate

Thu. June 12

08:30

Retail Sales

May

0.6%

-0.2%

HIGH

Thu. June 12

08:30

Retail Sales ex-auto

May

0.7%

0.5%

HIGH

Fri. June 13

08:30

Core Consumer Price Index (CPI)

May

0.2%

0.1%

HIGH

Fri. June 13

08:00

Consumer Price Index (CPI)

May

0.5%

0.2%

HIGH

Fri. June 13

08:30

Consumer Sentiment Index

(UoM)

Jun

57.5

59.8

Moderate