Jason Daniels is pleased to provide current information regarding the Colorado Springs Real Estate market. The following information is provided by Coleen Leri with First Community Mortgage.
Last Week in Review


"OPINION HAS CAUSED MORE TROUBLE ON THIS LITTLE EARTH THAN PLAGUES OR EARTHQUAKES." ~ Voltaire. Opinions certainly caused some trouble in the markets last week as several Fed members talked about inflation, the arch enemy of Bonds and home loan rates, and their comments shook the markets like a high-magnitude quake.
Last week began with Fed Chairman Ben Bernanke suggesting that the Fed is in no hurry to hike rates because of "slack" in the economy. Bonds traded lower on this news, and this may be because many economists disagree with Bernanke and believe a rate hike would actually help strengthen the US Dollar, drop oil prices closer to $100 per barrel, ease inflation pressure and...as a result, help Bonds and home loan rates improve.
Also chiming in last week was Philadelphia Fed President Charlie Plosser, who said the Fed has to take "appropriate steps to do something about" inflation. His remarks helped fan the flames of volatility for Bonds and home loan rates, adding to the sell off in Bonds and worsening of home loan rates.
There was some good economic news last week, but remember good economic news often causes money to flow from Bonds into Stocks, and when Bonds trade lower, home loan rates rise. And that's exactly what happened when April's Pending Home Sales report (which measures signed real estate contracts for existing single-family homes, condos and co-ops) and May's Retail Sales Report both came in much better than expected.
On Friday, the important read on consumer inflation via the Consumer Price Index (CPI) report delivered a mixed bag. Overall inflation is up 4.2% on a year-over-year basis, which is the highest it's been in awhile. This comes as no surprise, when taking into consideration how much the prices of fuel and food have both risen. But the Core Rate of inflation, which strips out both food and energy, increased at a much more reasonable rate of 2.3%. Since Core CPI is seen by most economists as the best measure of the underlying inflation rate, this was really good news. However, Stocks rallied after former Fed Chairman Alan Greenspan chimed in with his opinion that the worst of the credit crisis is over, and this halted any improvement for Bonds and home loan rates.
After all the reports and opinions, home loan rates ended the week at their worst levels in 4 months. I'll be watching closely this week for any more opinions that could shake up the market!
FRIED GREEN TOMATOES - YES, THEY'RE FINE...BUT BE CAREFUL IF THEY'RE RAW, RED, AND ROUND...AS A RECENT SALMONELLA SCARE IS PLAGUING THE NATION. CHECK OUT THIS WEEK'S VIEW FOR IMPORTANT TIPS AND INFORMATION ON HOW TO PROTECT YOUR FAMILY.
Forecast for the Week


There are several reports due this week that could "plague" the markets and home loan rates. Tuesday will bring the wholesale inflation measuring Producer Price Index, as well as a read on the housing market via the Housing Starts and Building Permits Report.
Also, on Thursday, the Philadelphia Fed Report hits the wires. This monthly survey of manufacturing purchasing managers conducting business around the tri-state area of Pennsylvania, New Jersey, and Delaware is one of the most-watched manufacturing reports, and it will be important to see if concerns about inflation have had an impact.
Remember when Bond prices move higher, home loan rates move lower...and vice versa. The chart below shows how Bond prices moved sharply lower last week on inflation concerns, so stay tuned this week! If inflation continues to shake up the markets, Bond prices and home loan rates could have another troublesome week...but prices are at the same low levels they hit last year before starting to improve. Oftentimes, history repeats itself, and should Bonds receive some friendly economic news, it is likely they will gain back some of the ground recently lost.
Chart: Fannie Mae 6.0% Mortgage Bond (Friday Jun 13, 2008)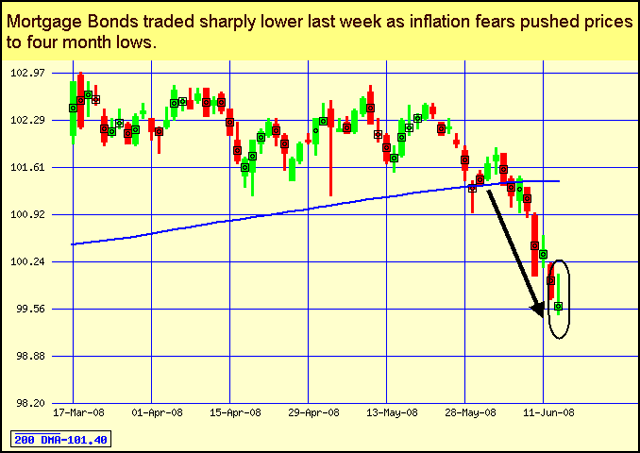 The Mortgage Market View...


Summer Food Safety Tips
Summer-time is one of the best times of year to enjoy fresh fruits and vegetables, especially those that aren't available year-round. But recent salmonella outbreaks like those in last year's spinach crops or this year's tomato crops are an important reminder about handling food properly.
The Centers for Disease Control (CDC) notes that there is no way for consumers to detect salmonella since it can't be smelled, tasted, or seen. Here's what they recommend to reduce the risk of exposure during this latest outbreak:
Check the Type
Since April 16, more than 220 people from twenty-three states have contracted salmonella poisoning from tainted tomatoes. As a result, the Food and Drug Administration (FDA) is advising people to eat only cherry tomatoes, grape tomatoes, tomatoes sold with the vine still attached, and tomatoes grown at home since these tomatoes are not associated with the outbreak.
If you have raw red plum, Roma, or round red tomatoes, which are the tomatoes associated with the outbreak according to preliminary data compiled by the FDA, the best thing to do is either throw them away or return them to the store where you purchased them.
Wash, Wash, Wash
One of the best ways to protect yourself is to wash all produce, including organic produce, with cold running water. You should scrub your produce gently with a vegetable brush, or you can use your hands if you don't have a brush. Make sure you remove outer layers of cabbage and lettuce. And make sure you wash fruit, too, even if you don't eat the peel.
In addition, wash your hands with soap and water before handling food and also wash cutting boards, counters, and utensils to avoid cross-contamination. When you are preparing fresh vegetables, make sure you avoid any kind of contact with raw meat. And don't forget to refrigerate sliced up fruits and vegetables.
Ask Your Waiter
If you eat out, ask your waiter what the restaurant has done in response to the outbreak. Several restaurants...including chains McDonalds, Burger King, and Taco Bell, among others...have stopped serving tomatoes, but it's always wise to double check. Keep in mind that ketchup and cooked sauces are not affected since cooking tomatoes at 145 degrees kills salmonella. Don't hesitate to ask your waiter to leave tomatoes off a sandwich or salad if the restaurant hasn't removed tomatoes from its menu. Note that if you remove the tomatoes once your order comes, the food could still be contaminated.
Make the Call
Salmonella poisoning typically resembles the flu, and symptoms usually appear 12 to 72 hours after infection and include abdominal cramps, headache, fever, diarrhea, nausea, and vomiting. If you suspect that you've contracted a case of salmonella poisoning, call your local health department. Reported cases help the CDC and FDA track the source of salmonella.
For the latest information on the tomato salmonella outbreak, visit:
FDA: Link to FDA Information
CDC: Link to CDC Information
The Week's Economic Indicator Calendar

Remember, as a general rule, weaker than expected economic data is good for rates, while positive data causes rates to rise.
Economic Calendar for the Week of June 16 – June 20
| | | | | | | | |
| --- | --- | --- | --- | --- | --- | --- | --- |
| Date | ET | Economic Report | For | Estimate | Actual | Prior | Impact |
| Mon. June 16 | 08:30 | Empire State Index | Jun | -2.4 | | -3.2 | Moderate |
| Tue. June 17 | 09:15 | Industrial Production | May | 0.1% | | -0.7% | Moderate |
| Tue. June 17 | 09:15 | Capacity Utilization | May | 79.7% | | 79.7% | Moderate |
| Tue. June 17 | 08:30 | Producer Price Index (PPI) | May | 1.0% | | 0.2% | Moderate |
| Tue. June 17 | 08:30 | Core Producer Price Index (PPI) | May | 0.2% | | 0.4% | Moderate |
| Tue. June 17 | 08:30 | Housing Starts | May | 980K | | 1032K | Moderate |
| Tue. June 17 | 08:30 | Building Permits | May | 950K | | 978K | Moderate |
| Wed. June 18 | 10:30 | Crude Inventories | 6/14 | NA | | -4560K | Moderate |
| Thu. June 19 | 08:30 | Jobless Claims (Initial) | 6/14 | NA | | 384K | Moderate |
| Thu. June 19 | 10:00 | Index of Leading Econ Ind (LEI) | May | 0.0% | | 0.1% | Low |
| Thu. June 19 | 10:00 | Philadelphia Fed Index | Jun | -12.0 | | -15.6 | HIGH |