"I'M MELTING! MELTING! OH, WHAT A WORLD, WHAT A WORLD..." Wicked Witch, Wizard of Oz 1939 And last week, you couldn't watch the financial news for longer than a few minutes without hearing about the "subprime meltdown", talking about a certain type of home loan experiencing heavy rates of default and foreclosure, and what the potential consequences might be on the US economy. Although subprime lending only represents a very small portion of home loans overall, the doom-and-gloom-loving media was loving it, busy forecasting a financial disaster for the economy. While this is a bit overblown, there certainly will be some ramifications, so be sure to read this week's Mortgage Market View below, to know what you should expect, and what you can do now. Overall, the news and hype did worry investors, and both Stocks and Bonds experienced an increase in volatility...but home loan rates ended up very close to where they started for the week.
In other news, Retail Sales came in a bit weaker than anticipated last week - but with a freezing cold February across most of the US, it wasn't exactly the best month to go hit the malls. The Producer Price Index (which measures wholesale inflation) and the Consumer Price Index (which measures retail inflation) both came in a bit hotter than had been expected, indicating that inflation has been stubbornly persistent in the economy. What must the Fed think of all this - and what will they do at their upcoming meeting? Read on...
DON'T MISS THIS WEEK'S MORTGAGE MARKET VIEW, TO LEARN HOW THE ISSUES IN THE SUBPRIME HOME LOAN ARENA MAY IMPACT YOU, WHAT THE FACTS ARE...AND WHAT YOU CAN DO RIGHT NOW.
Forecast for the Week


The week ahead holds a few real headliner news items, including a new round of housing data to sift through, including Housing Starts and Building Permits on Tuesday, and Existing Home Sales next Friday. But the financial highlight of the week will be the Fed Meeting and resulting Policy Statement. There has been rumors of a Fed Funds Rate cut to help the housing market or to smooth out the subprime home loan problem...but don't believe it. The Fed's main charge is to control inflation, period. And they will only consider cutting rates if the core rate of inflation, as measured by the Personal Consumption Expenditure (PCE) Index, falls below 2% for a few consecutive months. The latest Core PCE was 2.3%, so don't look for Home Equity Lines of Credit or other adjustable home loan rates that are tied to the Fed's movements to be dropping anytime soon.
The chart below shows how Bond Prices have been on a nice upward trend for the past six weeks, meaning that home loan rates have been trending lower. But on Friday, Bonds stepped right off that friendly upward sloping trend line, which could mean that Bond prices and home loan rates will worsen over the next few days, at least until some news comes along to drive the action decisively one way or the other. And this will likely be dependent on the flavor of the Fed statement coming up this Wednesday, due to be released at 2:00pm ET.
Chart: Fannie Mae 5.5% Mortgage Bond (Friday Mar 16, 2007)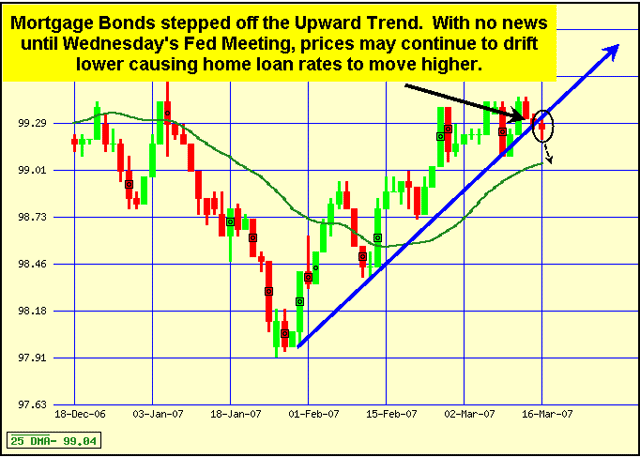 The Mortgage Market View...


The headlines are once again full of news from the mortgage and real estate front...and this time, the "subprime meltdown" is taking center stage. What exactly is going on, and what does it mean to you?
A "subprime" home loan is a loan where the client has some significant credit issues, or was otherwise unable to qualify for a standard, conventional loan. Due to the fact that these loans tend to be quite risky for the lender...they also bear higher interest rates to match, as well as often being adjustable rates that likely have recently hiked sky high, not to mention the steep prepayment penalties they generally carry.
These loans have been around for years - so why all the drama now?
Many subprime and other adjustable home loan rates have moved dramatically higher, due in part to the Federal Reserve Boards recent rate hike cycle. So as these rates are adjusting higher - and the payment right along with it - the homeowners are finding that they are unable to keep up with the dramatic increase in payment.
In the past, homeowners in this situation would simply throw the house on the market, realize enough of a profit to cover any prepayment penalties, and literally move on. But the soft real estate market isn't making this quite so easy any more - houses are not selling as quickly, and the home appreciation rates enjoyed in the past have moderated.
So the subprime homeowner is stuck - and many of these homes are falling into foreclosure, causing even more problems. As more and more loans are defaulting, mortgage lenders are forced to tighten up their lending standards across the board in response...making it tougher for a troubled homeowner to even refinance to get out of trouble. Many subprime lenders are feeling the pain, and in some cases, actually being forced to close their doors as they are hit with all the defaulted loans and foreclosed properties coming back home to roost.
How does this impact you?
In the short term, home loan rates are benefiting, as the stock market is taking a beating, causing money to flow into Bonds and Mortgage Backed Securities, which benefits home loan rates. But the longer term picture may spell higher interest rates ahead, as lenders have to absorb the cost of the loans that went belly-up, combined with the cost of increased compliance and accountability standards.
Now in many cases, the advice and loan strategy given to the client was perfectly appropriate for the client at the time they took out the loan...but the "perfect storm" of colliding economic events may have just worked against them. Yet unfortunately, many homeowners are paying a very steep price for what may have been poor advice and counsel given them at the time of their home purchase or refi. Now more than ever before, it is clear that it pays to work with a true professional, especially when your home is on the line. If you've ever thought it's too expensive to work with a real professional...just wait until you work with an amateur. The price paid is clear - and in this case, it's a very painful one.
Because of these events, credit and lending standards are tightening across the board, so it's a great time to get a "financial check up" - both you personally, as well as your clients, friends, family members and coworkers - even if they are not immediately in need of any home loan financing.
You know that I want to build relationships for the long run, not just to provide a "transaction" - so although you may not have a need for my home loan services at this time, I'd like to invite you to contact me for a review of your current credit and financial situation. There may be recommendations I can make now, that will ensure you are in the best possible shape to obtain the most favorable financing terms when the need does arise.
Feel free to forward this newsletter directly, or print out copies for your clients, friends and coworkers who are asking about the headlines. As always, simply give me a call or email - I am always glad to hear from you, and happy to answer any questions regarding this matter or any other way I can be of service to you.
The Week's Economic Indicator Calendar

Remember, as a general rule, weaker than expected economic data is good for rates, while positive data causes rates to rise.
Economic Calendar for the Week of March 19 – March 23
Date

ET

Economic Report

For

Estimate

Actual

Prior

Impact

Tue. March 20

08:30

Housing Starts

Feb

1440K

1408K

Moderate

Tue. March 20

08:30

Building Permits

Feb

1560K

1571K

Moderate

Wed. March 21

10:30

Crude Inventories

3/16

NA

1180K

Moderate

Wed. March 21

02:15

FOMC Meeting

HIGH

Thu. March 22

08:30

Jobless Claims (Initial)

3/17

325K

318K

Moderate

Thu. March 22

10:00

Index of Leading Econ

Ind

(LEI)

Feb

-0.3%

0.1%

Low

Fri. March 23

10:00

Existing Home Sales

Feb

6.35M

6.46M

Moderate